With a cover, the firepit transforms into the perfect table for summer whiskey tastings. The rest of the year nothing is much better than whiskey around a fire. There is enough room for at least a dozen people. We are looking forward to sharing our love of whiskies with our friends.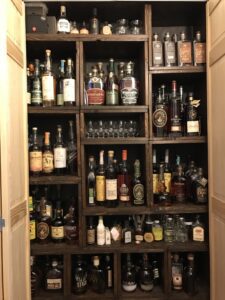 We have a large collection of whiskies from around the world. From sweet bourbons to smoky and peaty single malts, we love sharing our selection with friends. From well-known brands to hidden gems, the Urban Oasis Happy Hour features a wide range of whisky expressions, including Japanese, Scotch, Irish, and more. Engage your senses as you explore the whiskey pantry, guided by knowledgeable experts who are passionate about sharing their love for whiskey.
Food is always offered with any Happy Hour at the Urban Oasis.
See the Appetizers for Whiskey Tastings

Whiskey Tastings at the Urban Oasis is currently available by invitation only.