Spicy Mango Margaritas
Perfect evening for a fire and tequila cocktails.
This was a happy hour featuring a Paloma or Spicy Mango Margarita.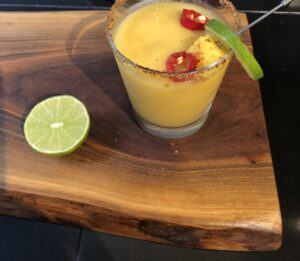 Spicy Mango Margarita.
I muddle charred jalapenos into a Tequila Reposado then blend with Frozen Mangos, Lime juice, Cointreau, and Chipotle Cocktail Spice.
Family and Friends.
This was a wonderful evening with family and friends.
The new backyard deck.
Just about a week prior to having people over, we finished rebuilding the backyard deck.
Happy Hour at the Urban Oasis is currently available by invitation only.