Embrace the possibilities of gardening, where the desire to grow your own vegetables or nurture colorful summer blooms finds the ideal ally in the shape of raised planter beds. These raised garden beds cater to both novice enthusiasts and experienced gardeners with their adaptability and user-friendly design, offering a variety of advantages that go beyond the conventional ground-level planting.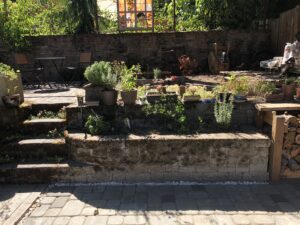 There is one raised planter bed that is part of the retaining wall. At 21 inches tall this side is great for taller adults to sit at. Kitchen herbs are grown in this bed. Rosemary, basil, tarragon, and parsley are here close to the back door. In the other side of the retaining wall we have sage, marjoram, oregano, and thyme. These elevated structures aid in limiting the oregano's growth, resulting in a clearly defined and well-organized garden area that radiates both beauty and usefulness.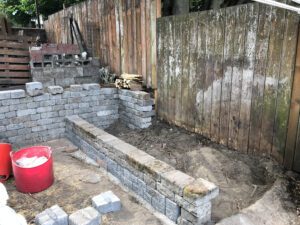 For the new raised bed area, I wanted to make this one 18 inches tall for kids and shorter adults to sit at. I like the way the different height look around the firepit area. This raised planter bed will also help support the retaining wall extension.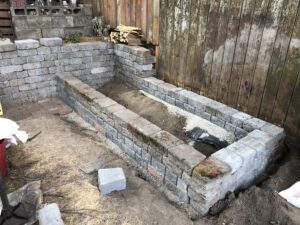 The back of the new raised planter bed is about 4 inches away from the fence. I use this back wall for potted Japanese maples. I have also run water and low voltage for lights. Now that this raised bed is finished, I can get started on the pavers.