Laying the pavers for the firepit area that will be 12 by 17 feet. These are dominion concrete pavers are made by Mutual Materials.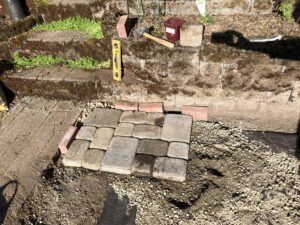 I am adding about 2 inches between the pavers and the retaining wall. I know that there are easier ways of doing this but I like setting each paver individually. With the way this is going it should take about two months to complete.
Using white marble rock should hide any unevenness or irregularities at the perimeter of the paver area. The white marble stone blends with the texture and color of the pavers and creates a more pleasing design.
I had some older and newer pavers. There was a small difference in the appearance so I came up with a design that accents the differences.
More gravel was needed so I had another day of hauling 50 pound bags from the street.