We've just finished moving into this Seattle home that was built in 1901. The removal of the front lawn was one of the first tasks we undertook. I really dread mowing the lawn.
It took a bit of effort and perseverance to take on the task of uprooting the entire front lawn. The vision of a small patio and herb garden kept me moving on as the once-luxurious green grass gave way to the unrelenting digging. Some of the neighbors seemed perplexed by our readiness to remove a brand-new, immaculate lawn that had only lately been added to the house. They had no idea that, beneath the surface, our objectives were firmly founded in a vision that rejected the high maintenance requirements of a traditional lawn in favor of a multipurpose outdoor area that would greatly improve the value of our home.
The desire for a more useful and welcoming front yard overcame the appeal of a grass lawn. Replacing the lawn with a flagstone path to a patio space that invites visitors to stop and relax.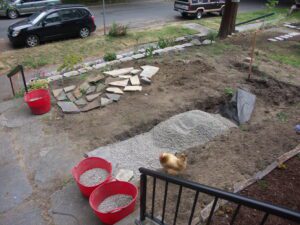 Moreover, the usefulness of growing fresh herbs and anticipating going outside to harvest fragrant basil, mint, or savory thyme for our culinary ventures. The herb garden would boost our culinary endeavors by infusing our dishes with the flavors of our organic produce, in addition to being a lovely addition to our patio area.